Viewpoints, Foresee Results partner for customer satisfaction metrics
Knowing whether consumers are satisfied or the level at which they are satisfied is key for brands' ability to build loyalty.
The Viewpoints/Foresee Results partnership will:
• Allow Foresee Results to survey consumers about satisfaction levels
• Help brands create and launch a social commerce site
• Drive incremental traffic/sales through measurement of users
"Truly understanding customer satisfaction is crucial to delivering a strong user experience on your site," said Matt Moog, CEO of Viewpoint Network. "We're pleased to be incorporating the ForeSee Results solution into Viewpoints.com so that we can gain much deeper insight on our members and consistently improve our offering based on reliable, scientific methodology. And, we think so highly of what ForeSee Results has to offer, we're also offering it to our VTP customers so that they can ensure the best possible user experience for their online communities."
Customer satisfaction is one way brands and marketers can begin to overcome economic woes. Consumers are smarter about the purchases they make and are more concerned with overall experience – including ease of shopping, shipping charges, etc. – than ever before. By monitoring how satisfied consumers are brands can make changes to better service the consumer base. Likewise as consumers find shopping hubs they trust, they will return time and again to make more purchases.
ABOUT THE AUTHOR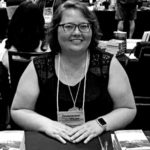 Kristina Knight is a freelance writer based in Ohio, United States. She began her career in radio and television broadcasting, focusing her energies on health and business reporting. After six years in the industry, Kristina branched out on her own. Since 2001, her articles have appeared in Family Delegate, Credit Union Business, FaithandValues.com and with Threshold Media.