Report: Aussies spending more time online in the same places
Sandra Hanchard, Hitwise's Asia/Pacific analyst writes, "Overall Australian [consumers] are spending a longer amount of time online during each session, with the average visit time 11 minutes 30 seconds in November 2009, compared to 11 minutes 7 seconds in November 2008. This might seem like a marginal difference but what's interesting is the spread in time spent online. There were only three parent industries which increased their average session duration over the year, namely, Computers and Internet, Shopping and Classifieds and Adult."
In 2009 Australians reduced time spent on gambling sites, increased time spent with computer/internet sites, increased online shopping time and decreased time spent on news/media websites. Although gambling sites take up a majority of time spent online (about 18 minutes per consumer), computer/internet sites are visited an average of 15 minutes per session and consumers spend about 12 minutes per session on shopping websites.
Of more importance, perhaps, is that consumers are spending a greater amount of their time within specific segments or on certain 'favorite' websites. Within the Computers and Internet category Hanchard mentioned above, Aussie consumers spent a 29% share of their time, that is nearly a 3% increase year over year. Hanchard suggests that this makes 2009 the Year of the Status Update because consumers are spending so much time with social networks like Twitter.
Moving forward, Hanchard suggests that marketers take the Year of the Status update to heart, and cut to the chase. Quickly.
"[If] I had one standout message for marketers in 2010: 'Brevity' and 'Relevancy' of communications will be the earmarks of success for engaging with the 24/7 connected consumer," writes Ms. Hanchard.
ABOUT THE AUTHOR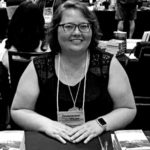 Kristina Knight is a freelance writer based in Ohio, United States. She began her career in radio and television broadcasting, focusing her energies on health and business reporting. After six years in the industry, Kristina branched out on her own. Since 2001, her articles have appeared in Family Delegate, Credit Union Business, FaithandValues.com and with Threshold Media.