"Conversationalists" make it onto Forrester's social ladder
A couple of years ago Forrester introduced the Technographics Ladder, a model to help profile Internet user activity within social realms such as blogs, forums, wikis, RSS and networking sites. Luckily, it's an expandable ladder.
Due to the rise in micro-blogging and the number of conversations held over Facebook status updates and tweets, Forrester has added a rung on their ladder for those they've dubbed "Conversationalists". This social bunch tweet or update their social networking status at least once a week and account for 33% of the online population.
"When we created the Social Technographics ladder of behaviors, we anticipated most categories of social behavior that continue today with one exception: the rapid conversations that take place in tweets and Facebook status updates," explains Josh Bernoff in the report's executive summary.
The Conversationalist rung is placed in between the most engaged Internet users who either blog or publish web content (Creators – 24%) and the more passive users (Critics – 37%). Along the social ladder the Critics are followed by Collectors (20%), Joiners (59%), Spectators (70%) and Inactives (17%).
So what does a Conversationalist look like? According to Forrester they're most likely to be female (56%), hold a college degree, aged 30 or over and earning about $2,100 more than the average online consumer.
ABOUT THE AUTHOR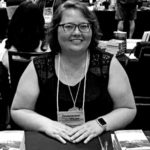 Kristina Knight is a freelance writer based in Ohio, United States. She began her career in radio and television broadcasting, focusing her energies on health and business reporting. After six years in the industry, Kristina branched out on her own. Since 2001, her articles have appeared in Family Delegate, Credit Union Business, FaithandValues.com and with Threshold Media.