How social networks may improve the holiday spend
Some of the affects of social networks have already been seen. On Cyber Monday and on Black Friday both traffic and revenue spiked higher than predicted, leading many experts to change their overall predictions for the holiday season. Where originally many felt the season would be flat, now some experts are predicting at least a 5% increase in the holiday spend.
New information shows that social networks are, indeed, pushing about 10% of the total US online traffic which has marketers logging on to catch consumers as they chat, share pictures or post updates. Both Amazon and Walmart, who ranked number one and number two for Black Friday/Cyber Monday traffic, received holiday traffic from social networks. Target, Best Buy and Toys R Us also received holiday traffic thanks to a social network.
Now, some of the traffic is organic as consumers log on to a social network and then continue on their daily online journey. But some of the traffic is because of brand coupons, deal updates or offers posted within the social nets.
"Amazon and Wal-Mart received the highest share of downstream traffic on Thanksgiving, Black Friday and Cyber Monday. Target ranked 4th among the Retail 500 on Thanksgiving and Black Friday, then jumped to 3rd place on Cyber Monday. Unlike with Facebook, where the top 5 were consistent, QVC, Blair, CafePress.com and Kmart rounded out the top 5 on the first of the holiday milestone shopping days," writes Heather Dougherty, Hitwise Analyst.
ABOUT THE AUTHOR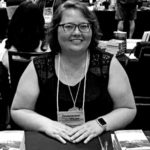 Kristina Knight is a freelance writer based in Ohio, United States. She began her career in radio and television broadcasting, focusing her energies on health and business reporting. After six years in the industry, Kristina branched out on her own. Since 2001, her articles have appeared in Family Delegate, Credit Union Business, FaithandValues.com and with Threshold Media.