Internet Marketing 101: Why you should give e-newsletters another try
Think e-zines are too 'last century'? Yahoo or Google the keyword 'e-zine' or even 'ezine' and a plethora of business, entertainment, gaming and advertising ezines will magically appear. Have these 'zines been around for a while? Yes, many have. But the key is that they are still around and even more are joining them. Why? The content.
That's right, the content. E-zines aren't just about sticking a bunch of ads together around some random content and hoping a consumer clicks and buys. The advertising, while critical to the on-going success, is something that comes after good content targeted to a specific demographic base.
Whether writing about business, supplying the latest gossip to a horde of fans or updating the masses on the release of a new game, e-zines are powerful stuff. Delivered to a waiting list of opt-in readers who are already engaged with the subject, the chances that an e-zine will sell a book, a new copy of a game or convince a reader to sign up for a convention are very real. Which is where the content comes in.
The content in an e-zine can't be just a nuts-and-bolts piece about how to improve alternate sales. Although the nuts and bolts are important, the content must be engaging and to be engaging it has to be real. An e-zine that does this? The new "HR Strange but True" 'zine from Business and Legal Reports (BLR). In the past year the 'zine has grown from 278 subscribers to more than 7,000. The unsubscription rate? A staggering 0.2% – that means the 'zine is accomplishing two goals: it is entertaining and engaging the existing readership while also engaging a new readership.
How is it doing this? By creating engaging content. Am I beating a dead horse yet? The content in the 'zine is funny and includes true-to-life happenings that its readership can understand – and enjoy. Along with the tight content comes the call to action – after an article, a call to action is included for a book or upcoming training on the subject. Readers can also share their own stories and anecdotes with the readership – based on a call to action – and are encouraged the share the 'zine with new readers – another call to action. Plus, at the top is a button for new subscribers, important since the 'zine is being read and forwarded to so many new subscribers.
Now, for the time aspect. A new e-zine isn't a simple way to increase readership of your book, attendance at your next conference or even purchases of a great product. Creating a good e-zine will take a lot of time and attention, meaning that other areas of your business may fall off. But, if you have the time to invest and some funny stories to tell, e-zines can help increase the exposure of your books, games, products or conferences and create another line of revenue to your business.
ABOUT THE AUTHOR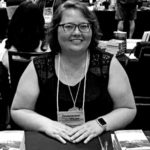 Kristina Knight is a freelance writer based in Ohio, United States. She began her career in radio and television broadcasting, focusing her energies on health and business reporting. After six years in the industry, Kristina branched out on her own. Since 2001, her articles have appeared in Family Delegate, Credit Union Business, FaithandValues.com and with Threshold Media.