Report: Newspaper website traffic on the upswing
Not only are consumers visiting websites, this report finds that newspaper website visitors are more engaged with ads and more likely to take action based on an ad seen. Nielsen researchers found that 82% of adults who saw an ad on a newspaper site or in a newspaper 'took action' based on that ad. What actions are consumers taking? They are clipping coupons, making purchases or visiting websites for more information.
"The newspaper audience continues to expand as publishers aggressively capitalize on their investments in digital properties, adding robust features and launching new products to attract a highly valuable consumer audience," said NAA President and CEO John F. Sturm. "Advertisers who want to reach consumers ready to make purchasing decisions continue to use the trusted newspaper brand to ensure their messages are heard through the crowd."
Researchers found that more than 70 million unique visitors landed on newspaper websites in June 2009, that is nearly 36% of the total US online audience. Not only are consumers visiting newspaper hubs, they are devouring content there.
Here are some numbers from the report:
• Newspaper visitors generated 3.5 billion page views in June
• Newspaper visitors spent 2.7 billion minutes browsing newspaper sites
• More than 590 million online sessions found consumers on newspaper websites
So, while many marketers are avoiding newspaper advertising, the smart money is on keeping newspaper ads – especially online ads – in the marketing budget for the foreseeable future.
ABOUT THE AUTHOR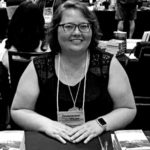 Kristina Knight is a freelance writer based in Ohio, United States. She began her career in radio and television broadcasting, focusing her energies on health and business reporting. After six years in the industry, Kristina branched out on her own. Since 2001, her articles have appeared in Family Delegate, Credit Union Business, FaithandValues.com and with Threshold Media.