Merchant Circle adds consumer connection to network
The new platform promises to connect local businesses with local consumers. The new products are called "Neighbors" and "Answers" and assist consumers in finding local merchants as well as in finding answers from experts – local business owners.
Darren Waddell, vice president of MerchantCircle said, "As consumers increasingly rely on the internet to make local shopping decisions, traditional channels like the yellow pages and newspaper circulars are dying. We help local businesses compete in this new business environment, and we help shoppers find the information they need to purchase locally. Our Neighbors and Answers products are the logical extension of MerchantCircle's mission to better connect local businesses with potential customers."
First, the "Answers" platform. This gives consumers the ability to ask 'experts' – members of MerchantCircle's 910,000 local businesses – a question and receive a solid answer. From the best brand of oil for a Ford truck to questions about invisible fencing for the backyard, merchants are available to answer consumers' questions.
Next, the "Neighbors" platform, which helps consumers find local businesses and "follow" them. By following the local merchant, the consumer become privy to the latest promotions, deals and coupons available from that merchant. Kind of like an early adopter program, connecting local consumers with local businesses who can meet their needs.
ABOUT THE AUTHOR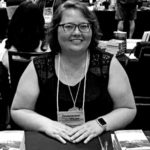 Kristina Knight is a freelance writer based in Ohio, United States. She began her career in radio and television broadcasting, focusing her energies on health and business reporting. After six years in the industry, Kristina branched out on her own. Since 2001, her articles have appeared in Family Delegate, Credit Union Business, FaithandValues.com and with Threshold Media.