Is social media here to stay? Marketers think so.
Equation Research found that nearly 60% of the 1,469 U.S. marketing professionals they surveyed for the report were already implementing social media as part of their marketing mix. Another 28% were planning on implementing it over the coming year.
Marketers already using social media aren't relying on any one channel. Equation Research discovered that marketers could be using around five to seven different tools and platforms at any one time, the four most popular being Twitter, Facebook, blogs and online video.
With regard to budget allocation, 60% of respondents foresee a greater portion going toward social media next year as well as online advertising (53%), search engine advertising (49%) and email marketing (41%).
Of the marketers that were not currently using social media, the top three reasons for not doing so are:
1. Lack of knowledge.
2. Lack of metrics.
3. No budget for social media.
"The adoption of social media is well past critical mass -multiple published studies support this finding," says the report. "While the quality of the implementations is difficult to asses, social media is now table-stakes. No business professional should be without a solid understanding of how this new world affects them."
For some interesting facts and figures about social media, check out this fast-paced video presentation, "Social Media Revolution" from social media blog, Socialnomics.
ABOUT THE AUTHOR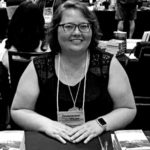 Kristina Knight is a freelance writer based in Ohio, United States. She began her career in radio and television broadcasting, focusing her energies on health and business reporting. After six years in the industry, Kristina branched out on her own. Since 2001, her articles have appeared in Family Delegate, Credit Union Business, FaithandValues.com and with Threshold Media.