NRF: Back to school blues?
On average, families with children in primary and secondary school (grades K – 12) will spend about $548 each, a decline of nearly 8% versus 2008 spending. The total primary and secondary school spend is expected to reach just over $17.4 billion this year; the spend including college spending is expected to reach more than $47 billion. The decreased spend this year is blamed on the faltering economy.
"The economy has clearly changed the spending habits of American families, which will likely create a difficult back-to-school season for retailers," said Tracy Mullin, President and CEO of NRF. "As people focus primarily on price, strong promotions and deep discounts will ultimately win over back-to-school shoppers this year."
Here are a few highlights from the report:
• Secondary/Primary school shoppers will spend $204 on clothing, $93.49 on shoes and $82 on school supplies
• 75% of families will shop discount stores, will use coupons or search for the best prices to make their cash last
• College shoppers will spend $118 on clothing, $57.85 on shoes, $34 on 'college gear', $80 on dorm/apartment furniture, $266 on electronics
• 22% of shoppers are expected to shop online and nearly one-third (32%) will shop two weeks prior to school starting
Electronics is the sole back-to-school shopping category not expected to see a decline in spending. Laptop/desktop computers, printers, iPods and handheld games are expected to fly off shelves as students return to school in the fall. Last year students spend $151 on electronics items; this year they are expected to spend nearly $168.
ABOUT THE AUTHOR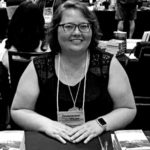 Kristina Knight is a freelance writer based in Ohio, United States. She began her career in radio and television broadcasting, focusing her energies on health and business reporting. After six years in the industry, Kristina branched out on her own. Since 2001, her articles have appeared in Family Delegate, Credit Union Business, FaithandValues.com and with Threshold Media.