Display ads – does size matter?
The study of 2,390 display ad campaigns implemented over the last three years compared the performance of smaller ad placements, such as "half banners" and "rectangles" with that of larger ad placements, such as "skyscrapers" and "leaderboards". It found that small display ads, placed within the content of a webpage, have greater impact and better conversion rates than larger, more intrusive ads or ads that "frame" content.
Despite these findings, the jury is still out on whether bigger is better. Even Senior VP of custom solutions at Dynamic Logic, Ken Mallon, said he was not yet sure the effect oversized ads will have, because his company hasn't studied enough of them. Many of the larger formats have been introduced recently or within the last year.
"It will be interesting to see how the new, larger ad formats that publishers are beginning to debut will rank next to the more traditional online ad formats", said Mallon. "Based on the current data, bigger doesn't always mean better, but these new ad formats are quite unique and we look forward to testing them."
Ultimately it's not size that matters. Instead, it's the quality of an ad and its relevance to the viewer that are important factors. "In the digital world, lots of time is spent optimizing targeting and campaign frequency, but the most important factor is starting with a good ad," said Mr. Mallon. "Just about any size will work better than a bad ad that's huge."
The research also revealed that display ad campaigns using rich media with video created the strongest brand impact, while ads using "simple Flash formats" (the format most commonly used by advertisers and agencies) performed the worst.
ABOUT THE AUTHOR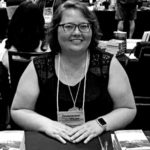 Kristina Knight is a freelance writer based in Ohio, United States. She began her career in radio and television broadcasting, focusing her energies on health and business reporting. After six years in the industry, Kristina branched out on her own. Since 2001, her articles have appeared in Family Delegate, Credit Union Business, FaithandValues.com and with Threshold Media.