That is quite a jump when you take into account the soggy economy, both global and in the US.
Brands who were not socially active saw sales decrease by about 6%.
The brands showing the best increases? Coffee brand Starbucks, computer company Dell and online auctioneer eBay. Google and Microsoft were also in the top five. These companies aren't just in the social space, they have workers dedicated to Twittering, Facebooking and MySpacing with consumers. By having a dedicated 'social squad' these brands are better able to handle problems which crop up before the problems become a rant throughout the online world.
What is spelling the difference for brands in the social marketplace? According to this study it is the engagement level of consumers. In the social realm, consumers are more engaged because they are involved with friends; getting a brand recommendation or finding a brand with similar 'tastes' as them is a natural way to increase brand awareness and loyalty.
ABOUT THE AUTHOR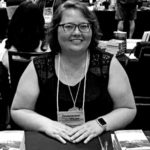 Kristina Knight is a freelance writer based in Ohio, United States. She began her career in radio and television broadcasting, focusing her energies on health and business reporting. After six years in the industry, Kristina branched out on her own. Since 2001, her articles have appeared in Family Delegate, Credit Union Business, FaithandValues.com and with Threshold Media.