WeddingMapper.com debuts auction based ad platform
The platform works like this: a business bids for low cost advertising space on local websites to reach wedding-minded couples. There are about 10,000 local websites in the WeddingMapper network; the business then sets a budget for the campaign and then places bids against other local vendors in similar markets. The top three bidders in each market are given premium ad space.
How is this better than an existing model? Because of the 'similar market' strategy. In many wedding based services prices are based on similar regions rather than cities. As all marketers know there are very few regions with similar income and spending ratios so basing this on comparable cities makes more sense and can help marketers hold down their budgets.
Although many wedding businesses – such as florists and caterers – will want to remain ultra local, other wedding businesses – such as stationers or gown retailers – can afford to spread their advertising wings a bit more for the possibility of engaging more consumers.
ABOUT THE AUTHOR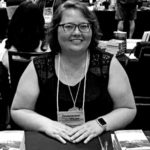 Kristina Knight is a freelance writer based in Ohio, United States. She began her career in radio and television broadcasting, focusing her energies on health and business reporting. After six years in the industry, Kristina branched out on her own. Since 2001, her articles have appeared in Family Delegate, Credit Union Business, FaithandValues.com and with Threshold Media.