Restaurant chain advertises paid Twitter position
It appears the social media flavor of the month is pizza. First we were served up helpings of nausea-inducing user-generated video of Domino's staff perverting pizza toppings and now Pizza Hut is adding an extra ingredient to its marketing department – a Twintern.
Whether it's a marketing stunt or a serious foray into social media marketing, the three month Twinternship is real. Pizza Hut has this week announced they are looking to recruit a Twitterer to keep pizza-munching fans up-to-date with the goings on at the restaurant chain.
Responsibilities will include sharing company insights and experiences via social media such as Twitter, Facebook, blogs and YouTube plus working on PR programmes. Twinterns will also be expected to attend ad shoots, marketing meetings and other corporate events while keeping an eye out for quirky content to share with fans.
A recent study by Whitepapersource.com's Michael Stelzner found that the more experienced a business is with social media, the more time is given over to its implementation and management.
"Social media marketing is an engagement with online communities to generate exposure, opportunity and sales," said Stelzner, "and the real shocker is that experienced folks are investing more than 20 hours each week with social media."
It will be interesting to see whether the Twinternship develops into a permanent position as Pizza Hut realizes the power social media can have when it is afforded the necessary time and commitment.
ABOUT THE AUTHOR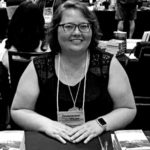 Kristina Knight is a freelance writer based in Ohio, United States. She began her career in radio and television broadcasting, focusing her energies on health and business reporting. After six years in the industry, Kristina branched out on her own. Since 2001, her articles have appeared in Family Delegate, Credit Union Business, FaithandValues.com and with Threshold Media.