Google makes most of its money from Internet search advertising but has gradually been adding ads to its other Internet ventures such as YouTube, Google Maps and Google Finance.
Now, the search behemoth has introduced ads to Google News, a service which aggregates headlines from more than 4,500 English-language news sources around the world and provides links to articles on their websites. Google News has been ad-free since its launch in 2002. The ads will currently only appear in the U.S.
"In recent months we've been experimenting with a variety of different formats, like overlay ads on embedded videos from partners like the AP," announced Google business product manager, Josh Cohen, in a blog post.
"We've always said that we'd unveil these changes when we could offer a good experience for our users, publishers, and advertisers alike, and we'll continue to look at ways to deliver ads that are relevant for users and good for publishers, too."
It's a move which some believe will go down like a lead balloon with leading news outlets, perhaps leading to many pulling their feeds, or even court action.
ABOUT THE AUTHOR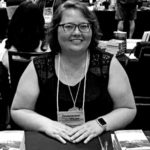 Kristina Knight is a freelance writer based in Ohio, United States. She began her career in radio and television broadcasting, focusing her energies on health and business reporting. After six years in the industry, Kristina branched out on her own. Since 2001, her articles have appeared in Family Delegate, Credit Union Business, FaithandValues.com and with Threshold Media.