Online dating pulls in more ads
According to the report online dating sites have seen ad spend increases of more than 65% since 2003; that increase is in line with the increase in traffic dating sites have seen in the same time period. However, because much of the online spend is spent on paid search or sponsored links, it isn't indicative of the online space as a whole.
Nielsen researchers found that in August of 2008, just about the same time as the financial crisis became kitchen table fodder, the dating spend spiked to $25,000, the highest it has even been. The closest month by spend was February 2006 when advertisers spent just under $25,000.
Which sites are seeing the bulk of the ad influx? The same sites that are drawing in the most consumers: eHarmony.com and Match.com. Although the online spend is still behind the television spend for most dating sites, online efforts are increasing. Cable TV pulled in just over $130 million in total ad spending while the Internet ranked second with just over $127 million total spending.
ABOUT THE AUTHOR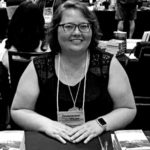 Kristina Knight is a freelance writer based in Ohio, United States. She began her career in radio and television broadcasting, focusing her energies on health and business reporting. After six years in the industry, Kristina branched out on her own. Since 2001, her articles have appeared in Family Delegate, Credit Union Business, FaithandValues.com and with Threshold Media.