Nearly half of small businesses have no website
While sat at my desk the other day, I remembered I had to make an appointment to take my dog for a check up at our small, rural veterinarian clinic. Without wanting to rummage around for the Yellow Pages, I decided to look up the vet's opening hours and contact information online, using Google.
The search engine returned nothing. The vet clinic had no website and, it seemed, had not registered with online directories. New research from a joint Nielsen Online and Webvisible survey in the U.S. found that this is not unusual, reports Marketing Charts. According to their data, 44% of small businesses don't have a website despite many people, like me, turning to search engines first for local small business information.
Furthermore, while the majority of small business owners use the Internet as consumers to search for local services and products, they rarely implement them in their own marketing plans. In fact, 82% of consumers and small businesses use search engines first to find information online, compared with 52% who turn to Yellow Pages online.
When you consider the apparent lack of financial and physical effort being made by small businesses to build an online presence, it's no wonder they can't be found by consumers. According to Webvisible's survey, 78% of small businesses with websites divert 10% or less of their marketing budgets to Internet projects and 61% spend less than three hours a week marketing their website. Surely there aren't still people out there of the 'build it and they will come' ilk?
However, it's not all gloom and doom. There are signs that small businesses are slowly warming to the world wide web. Over the past two years, 43% of small businesses say they have increased the use of search engines in their marketing efforts. Perhaps as a consequence, their use of some traditional media is declining with 23% of small businesses saying they use Yellow Pages less and 42% using local newspapers less.
ABOUT THE AUTHOR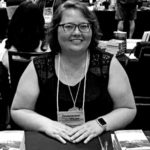 Kristina Knight is a freelance writer based in Ohio, United States. She began her career in radio and television broadcasting, focusing her energies on health and business reporting. After six years in the industry, Kristina branched out on her own. Since 2001, her articles have appeared in Family Delegate, Credit Union Business, FaithandValues.com and with Threshold Media.