Study: Willingness to buy is most important factor
The study found that after big events such as the 9/11 terrorist attacks or a downswing in the economy, as is happening right now in the US, consumers become less willing to buy or respond to marketers offers. The consumers are still viewing ads, watching television and reading the paper but it seems they are tuning out ads unless they are willing to buy.
As online marketers head into the holiday shopping season next month, it is increasingly important to determine which groups of your consumer base are willing to buy and which members aren't so that campaigns can be tweaked accordingly.
Engaging the audience is still important so campaigns must be well thought out. To determine what products are going to capture the audience's attention, consider sending out a few test emails or launching a smaller campaign to see how consumers react. Even if they aren't buying, click through rates can help to determine what consumers are interested in, thereby indicated their willingness to buy.
ABOUT THE AUTHOR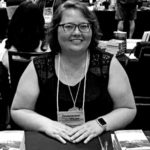 Kristina Knight is a freelance writer based in Ohio, United States. She began her career in radio and television broadcasting, focusing her energies on health and business reporting. After six years in the industry, Kristina branched out on her own. Since 2001, her articles have appeared in Family Delegate, Credit Union Business, FaithandValues.com and with Threshold Media.