On-page placement – the missing metric
To discover whether on-page placement affected overall ROI, MarketingSherpa commissioned a study from Eyetools. The eye-tracking heatmap results demonstrated that placement does indeed have an affect on whether an ad is seen.
Ads placed below the fold weren't seen by 75% of Internet users, the study found. Even ads placed above the fold were only seen by 60% of Internet users.
Media reports don't currently provide information on where an ad is placed relative to the fold, unless buying premium placements such as leaderboards and skyscrapers. On-page placement would be a useful metric for marketers when assessing campaign effectiveness.
But, as Alexys Ruiz commented in a MediaPost article, while most marketers realise they pay premium CPMs for prominent placements, most don't assume the trade-off for buying lower priced ads is that they won't be seen by the majority of Internet users. "You're buying with the goal that your impressions will be viewed," he said.
ABOUT THE AUTHOR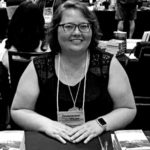 Kristina Knight is a freelance writer based in Ohio, United States. She began her career in radio and television broadcasting, focusing her energies on health and business reporting. After six years in the industry, Kristina branched out on her own. Since 2001, her articles have appeared in Family Delegate, Credit Union Business, FaithandValues.com and with Threshold Media.