Survey: Many TV viewers double-dip
Over three-quarters (78%) of Internet users from the U.S. and U.K. said they watch television while surfing the web, according to Harris Interactive's latest survey. Over a third (35%) do so "often" or "always".
And often the two activities are related. Sixty-two percent of "double-dippers", as Harris labels those who multitask between television and Internet, go online to research something completely unrelated to what they are watching, but a quarter search for related information. That might include a product, service or personality they have seen on a show or during the ad break.
However, marketers shouldn't assume that, at no point, do consumers tune out the Internet in favor of television.
"When researchers ask consumers questions like "Do you do other things while watching TV?", a high percentage will say yes," said Debra Aho Williamson, senior analyst at eMarketer.
"That is because of the ubiquity of TV and the fact that TV garners a sizeable share of total media time. However, studies have found that only a small percentage of total minutes spent with TV are actually spent multitasking other media."
ABOUT THE AUTHOR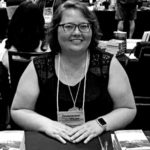 Kristina Knight is a freelance writer based in Ohio, United States. She began her career in radio and television broadcasting, focusing her energies on health and business reporting. After six years in the industry, Kristina branched out on her own. Since 2001, her articles have appeared in Family Delegate, Credit Union Business, FaithandValues.com and with Threshold Media.