Study: Politicos should increase online spending
The study found that while political candidates and supporters are beginning to embrace social networks and blogs to increase their profiles, those same entities are not buying online advertising which is a mistake. Researchers suggest that politicos begin with paid search advertising and once influential citizens begin reacting to the campaign to embrace display and video advertising.
Researchers with George Washington University's Institute for Politics, Democracy and the Internet (IPDI) found that the online political ad spend will grow to about $73 million this year. That, however, is very little compared to how much is being spent online. The paper suggests that for politicos to make a real impact on citizens online they need to spend $50,000 to $100,000 online for every $1 million dollars spent offline.
Consumers, the report found, are increasingly looking for political information online rather that paying attention to political ads on television or even coverage in their local newspapers. By creating an online presence through a website, a social platform and online advertising candidates have a better chance to reach their target demographics.
ABOUT THE AUTHOR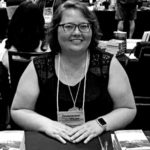 Kristina Knight is a freelance writer based in Ohio, United States. She began her career in radio and television broadcasting, focusing her energies on health and business reporting. After six years in the industry, Kristina branched out on her own. Since 2001, her articles have appeared in Family Delegate, Credit Union Business, FaithandValues.com and with Threshold Media.