Report: Affluent African-Americans have 45% of buying power
The study further found that the buying habits of African-Americans are different than Caucasian or Latino groups.
Of the 2.4 million African-Americans who have household incomes of more than $75,000 most are very interested in fashionable clothing and accessories, however fewer of them are apt to shop online, research products online or plan trips online.
So, how do online marketers reach this important demographic when the consumers aren't likely to be there? Multimedia campaigns are probably a good starting place.
According to the report, about 40% of the African-American demographic turn to television most often. So, sponsoring a television program and pointing a consumer to a website for more information or a special offer could be a good way to engage the consumer online. Magazines are also more important to the African-American population with 6% more than the national average, making magazine ads another good option. By utilizing cross-promotional ads, marketers have a better chance at pushing consumers online to research and buy products.
ABOUT THE AUTHOR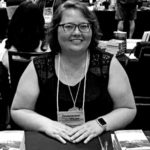 Kristina Knight is a freelance writer based in Ohio, United States. She began her career in radio and television broadcasting, focusing her energies on health and business reporting. After six years in the industry, Kristina branched out on her own. Since 2001, her articles have appeared in Family Delegate, Credit Union Business, FaithandValues.com and with Threshold Media.