More auto ad dollars are moving online
In 2007 about 5% of automotive advertising dollars were spent online. By 2011 that will raise to 13%.
"The autos category, along with real estate and travel, has enjoyed the deepest, most sustained experience among all verticals in the shift online," said Peter Krasilovsky, Marketplaces program director for The Kelsey Group. "For the auto industry, the Internet represents an ongoing battle between third-party sites, OEM sites and dealers. There is unlikely to be a winner-takes-all outcome. But who gets the upper hand depends, in part, on utility to consumers, ability to create a brand and degree of local interaction."
While the online auto category will rise over the next four years, offline venues will begin to decline. Classifieds advertising by auto advertisers will shrink from 14% to 10% and the share of newspaper ads by automakers will drop from 17% to 14%.
Television, too, will see a decline in auto advertising. By 2011 the television segment is expected to be just over $14 billion. Though that is a small drop (0.3%) it should not be ignored because television advertising is by far the largest segment, historically, for auto advertisers.
ABOUT THE AUTHOR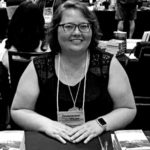 Kristina Knight is a freelance writer based in Ohio, United States. She began her career in radio and television broadcasting, focusing her energies on health and business reporting. After six years in the industry, Kristina branched out on her own. Since 2001, her articles have appeared in Family Delegate, Credit Union Business, FaithandValues.com and with Threshold Media.