Q3 Internet ad revenues jump to new high
Over the first nine months of 2007, Internet advertising revenue topped $15.2 billion, up 25.3 percent over the $12.1 billion reported for the same period in 2006. All three quarters of 2007 have set new highs: Q1 at $4.9 billion, Q2 at $5.1 billion and Q3 at $5.2 billion.
"Internet advertising revenues are on an annual run-rate exceeding $20 billion, further demonstrating the industry has truly come into its own," said Peter Petrusky, director, Entertainment, Media & Communications Practice, PricewaterhouseCoopers.
"The emergence of new platforms, including broadband video, rich internet applications, mobile, and social media promise to deliver new benefits for consumers, and create exciting new venues for marketers to realize value in digital media."
Despite the record highs, the quarter on quarter growth isn't huge, at just 3 percent this year compared to 2006's 33 percent.
ABOUT THE AUTHOR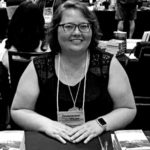 Kristina Knight is a freelance writer based in Ohio, United States. She began her career in radio and television broadcasting, focusing her energies on health and business reporting. After six years in the industry, Kristina branched out on her own. Since 2001, her articles have appeared in Family Delegate, Credit Union Business, FaithandValues.com and with Threshold Media.