The rise and rise of U.S. online social network advertising
"Social Network Marketing: Where to Next?" is the title of eMarketer's most recent foray in to the topic of social networking and its future claim on advertising dollars. It predicts that, by 2011, U.S. online social network advertising will have risen from $900 million to $2.5 billion.
"That figure will likely increase, at least in the near term, but if advertisers simply go for the low-hanging fruit of banners and search instead of reaching for the exponential effect of pass-along, much of the promise – and potential – of social networking will be lost," said the report.
This year, MySpace is estimated to bring in $525 million in advertising revenues and Facebook $125 million. Together, these two sites currently account for 72 percent of all social networking website advertising.
eMarketer expects that Facebook will see advertising spending rise to $215 million in 2008. Meanwhile, MySpace continues to lead the social networking pack and has recently announced that it is beta-testing a program that will enable marketers to target users based on information from their MySpace profiles.
ABOUT THE AUTHOR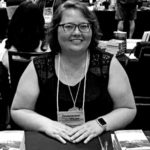 Kristina Knight is a freelance writer based in Ohio, United States. She began her career in radio and television broadcasting, focusing her energies on health and business reporting. After six years in the industry, Kristina branched out on her own. Since 2001, her articles have appeared in Family Delegate, Credit Union Business, FaithandValues.com and with Threshold Media.