Marketers should investigate the "green teen" effect
The study found that about 38% of teens between 13 and 17 years of age are concerned about the environment but only about 15% are very interested in doing everything they can to preserve the environment. These are the teens that should be targeted, according to the report.
"Green Teens are leaders among their peers – but more importantly, they are opinion leaders," explained David Card, Vice President and Senior Analyst at JupiterResearch. "This group likes to be the first to learn about something new; they have the potential to become a powerful tool in the online marketing arsenal."
Not only are "green teens" interested in the environment, they are very engaged with media – both offline and online. These teens are slightly more engaged with online communications than typical teens. Roughly 29% have purchased products in brick-and-mortar stores in the past 12 months and about 19% have purchased goods online.
As influencers for their generation, the "green teen" demographic is more likely to use digital photo services (18%), visit mobile content sites (24%) and participate in online chats (22%).
ABOUT THE AUTHOR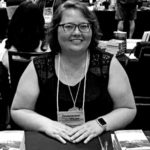 Kristina Knight is a freelance writer based in Ohio, United States. She began her career in radio and television broadcasting, focusing her energies on health and business reporting. After six years in the industry, Kristina branched out on her own. Since 2001, her articles have appeared in Family Delegate, Credit Union Business, FaithandValues.com and with Threshold Media.