Advertisers disappointed with Facebook's CTR
Earlier this year the Valleywag blog reported that media buyers saw Facebook as a "truly terrible target". At that time they were experiencing click-through rates of just 0.04 percent. Around the same time, GigaOM's Robert Young commented that, "Word on the street, Madison Avenue that is, is that advertisers who have experimented and bought ads on Facebook are universally disappointed with the results."
It would appear that not much has changed in the intervening months. A recent entry on the Reach Students blog expresses disappointment at their recent Facebook flyer campaign for which, coincidently, they also only managed to achieve click-through rates of around 0.04 percent.
Lots of reasons have been put forward as to why the click-through rates are so low. Some believe that a high number of tech-savvy students on Facebook are using ad-blockers and some that the younger generation are good at ignoring commercial messages.
However, while Myspace and other community networks are all about content, Facebook is more of a communication tool, like IM or a closed forum for friends. On MySpace users spend time browsing through content on various webpages whereas Facebook users spend their time absorbed in dialogue. The difference in user behaviour could well account for the disparate click-through rates, as Myspace has a click-through rate of around 0.1 percent, according to Valleywag.
ABOUT THE AUTHOR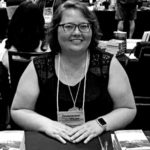 Kristina Knight is a freelance writer based in Ohio, United States. She began her career in radio and television broadcasting, focusing her energies on health and business reporting. After six years in the industry, Kristina branched out on her own. Since 2001, her articles have appeared in Family Delegate, Credit Union Business, FaithandValues.com and with Threshold Media.