Verizon Mobile adds live TV
MTV, Comedy Central and Nikelodeon have also signed on. Verizon Cast Mobile TV is offered in 20 U.S. markets to start with, but if the offering is well received, and FCC approved the service will be expanded. "We expect a number throughout the country to come live in the next several weeks and months," said Jeffrey Nelson, executive director of corporate communications at Verizon Wireless (via Clickz).
Mobile television efforts are quickly catching on in the U.S. With MobiTV and Modeo both offering different types of live and time-delayed television events. A 2006 study from Telphia found that more than 2 million U.S. cellular subscribers were also mobile TV subscribers.
However, in Europe the mobile television fad is quickly passing. According to a study from M:Metrics, the total number of past mobile TV users is more than current European subscribers. Cost has been a factor in European countries, as has the quality of the broadcasts.
If U.S. mobile offerings can keep prices competitive and the broadcast quality of mobile TV up, there will likely continue to be a mobile TV audience ready to subscribe.
ABOUT THE AUTHOR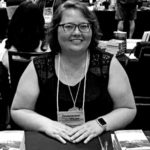 Kristina Knight is a freelance writer based in Ohio, United States. She began her career in radio and television broadcasting, focusing her energies on health and business reporting. After six years in the industry, Kristina branched out on her own. Since 2001, her articles have appeared in Family Delegate, Credit Union Business, FaithandValues.com and with Threshold Media.