More marketers to use social networking tactics in 2007
In 2006, around 38 percent of marketers used social marketing tactics and, according to a new report from JupiterResearch, 48 percent plan to utilise social marketing sites during 2007. eMarketer estimates that ad spending on social networks will hit $865 million this year.
The JupiterResearch report, "Social Networking Sites: Defining Advertising Opportunities in a Competitive Landscape", attributes the value of social networking sites to their demographics. They traditionally attract a young audience, although Hitwise recently released figures suggesting that around 60 percent of MySpace members were over the age of 25. On the whole social networkers are more likely to listen to the advice and experience of their peers than pay attention to adverts.
"Thirty percent of frequent social networkers trust their peers' opinions when making a major purchase decision, but only ten percent trust advertisements," said Emily Riley, JupiterResearch Analyst. "Consequently, brand marketers must harness brand advocates and influentials by providing additional motivation for frequent networkers to engage in social marketing."
Marketers are going to have to learn to engage the audience and earn their trust and respect instead of trying to pass off their brand managers as part of the crowd. The young and internet social surfers might value the opinions of their peers over advertising but they are also good at spotting an attempt to pass off commercial content for genuine sentiment.
A real concern is that marketers will see social sites as they do affiliate networks. This could dramatically alter the current landscape of trusted peers as it becomes hard to distinguish between who is being paid to promote a product or service, and who is a genuine advocate.
ABOUT THE AUTHOR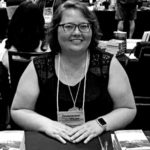 Kristina Knight is a freelance writer with more than 15 years of experience writing on varied topics. Kristina's focus for the past 10 years has been the small business, online marketing, and banking sectors, however, she keeps things interesting by writing about her experiences as an adoptive mom, parenting, and education issues. Kristina's work has appeared with BizReport.com, NBC News, Soaps.com, DisasterNewsNetwork, and many more publications.