Kohl's first to use clickable video ad format
Microsoft adCenter Labs have launched their first Video Hyperlink (VHL) ad making it possible for viewers to click on items in a video in order access more information about that product and, in some cases, to buy it via a direct link to the purchasers website.
"Video hyperlink ads are a milestone for Microsoft adCenter Labs. As the first stand-alone product from Microsoft adCenter Labs, video hyperlink ads symbolize Microsoft's promise to innovate and advance the entire industry to new levels," stated a Microsoft spokesperson.
The first company to use ads featuring the new adCenter technology is Kohl's Corporation. The ad, which is currently only playing on MSN Video, consists of a promotional video for the department store's clothing ranges. An icon in the bottom right hand corner of the video appears when an item in the video can be interacted with. By clicking on the item the customer is taken to a product information page on the retailer's website, while the video pauses in the background.
With the emergence of social media and online video content VHL was always going to be a format that would attract marketers. Before VHL it was difficult to infiltrate video content without intrusion, but this new ad format gives the viewer control over which ads they see and allows for interactive, yet discreet, product placement.
ABOUT THE AUTHOR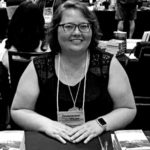 Kristina Knight is a freelance writer based in Ohio, United States. She began her career in radio and television broadcasting, focusing her energies on health and business reporting. After six years in the industry, Kristina branched out on her own. Since 2001, her articles have appeared in Family Delegate, Credit Union Business, FaithandValues.com and with Threshold Media.