Hispanics leading the way to broadband
According to the research, in 2006 only about 30% of the Hispanic population in the United States had high-speed Internet access, while 39% of non-Hispanic white people had broadband. Current research shows 58% of Hispanics with broadband access, that is 4% above the average and 2% above the non-Hispanic white demographic.
The study also shows where this broadband population is going online. Primarily, the Hispanic demographic is interested in connecting online – visiting social networks (55%), listening to radio (40%) and visiting television/programming sites (17%). Rounding out the top five places Hispanic broadband users go on the web are shopping sites (14%) and to watch TV online (8%).
Two other interesting facts are that 21% of Hispanic broadband users click on pop up ads and 37% visit Spanish-language websites.
The average Hispanic broadband user is 33 years old, 64% are English-language oriented and spend about 33 hours online each week.
How consumers connect to the Internet and what sites they visit is important for advertisers and marketers. If the target market cannot connect to websites because the connection is bogged down or if the ads are shown on the wrong site, their message will fall of deaf ears.
ABOUT THE AUTHOR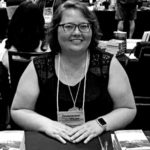 Kristina Knight is a freelance writer based in Ohio, United States. She began her career in radio and television broadcasting, focusing her energies on health and business reporting. After six years in the industry, Kristina branched out on her own. Since 2001, her articles have appeared in Family Delegate, Credit Union Business, FaithandValues.com and with Threshold Media.