Get Web 2.0 savvy with free AMA webcast
The American Marketing Association (AMA) is running a webcast, entitled "The Blog Revolution: Get on Board or Get Run Over", on Tuesday, February 13, at 10pm PST (12pm Central, 1pm EST). The broadcast will address the business utilization of Web 2.0 to drive market share and enhance reputation.
Three CEO's, who are all respected leaders in the field, Todd Rulon-Miller (KnowNow), Toni Schneider (Automattic) and Tony Conrad (Sphere) will each speak on Web 2.0 topics. They will cover case studies from organizations such as The New York Times and Southwest Airlines, covering topics such as blog monitoring and RSS tracking, and how they are addressing the issues and utilizing the technology.
RSS feed monitoring, podcasts, social bookmarking and wiki's are, no doubt, the buzzwords of the moment. Towards the end of 2006, however, many were speculating, including "The Economist", that it was a passing phase and the "Web 2.0 bubble" would soon burst, but according to the AMA's webcast announcement, "This new world presents the biggest opportunity since the advent of the Web itself to drive critical metrics like market share and customer growth."
Whichever side of the Web 2.0 fence you sit on, social networking and social media is not something to be ignored. The webcast is free and you need to pre-register.
ABOUT THE AUTHOR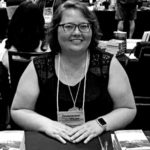 Kristina Knight is a freelance writer based in Ohio, United States. She began her career in radio and television broadcasting, focusing her energies on health and business reporting. After six years in the industry, Kristina branched out on her own. Since 2001, her articles have appeared in Family Delegate, Credit Union Business, FaithandValues.com and with Threshold Media.