Newspaper Websites Bulging With Blogs
In December, 2006, visits to blog pages accounted for just 13 percent of overall visits to newspaper websites, albeit a 4 percent increase on the same month the previous year. Total visitors to the top U.S. newspaper sites increased 9 percent to nearly 30 million.
The biggest increase was in the total traffic to newspaper blogs which was 210 percent up in December last year. This increase may, in part, be attributed to the increase in the number of blogs being featured by the publications.
"As Web 2.0 becomes a predominant online consumer model, traditional publishers are adopting interactive forums like blogs," said Carolyn Creekmore, senior director of media analytics at Nielsen//NetRatings. "It makes perfect sense for online newspapers, where responding to a blog posting is like writing an instant letter to the editor," she continued.
The popularity of blogging means that many more internet users are comfortable with the technology and culture, as are the journalists and bloggers in creating them.
"There's certainly a degree of comfort level that has grown over past year or so. We've all gotten a little more comfortable in having a conversation online," Creekmore told Reuters.
Below are the most popular blogs in the U.S., along with estimated December, 2006, audiences.
USATODAY.com – 1.29 million
The New York Times – 1.173 million
San Fransisco Gate – 515,000
Washingtonpost.com – 433,000
Boston.com – 388,000.
ABOUT THE AUTHOR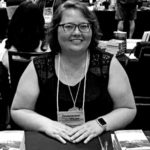 Kristina Knight is a freelance writer based in Ohio, United States. She began her career in radio and television broadcasting, focusing her energies on health and business reporting. After six years in the industry, Kristina branched out on her own. Since 2001, her articles have appeared in Family Delegate, Credit Union Business, FaithandValues.com and with Threshold Media.