Broadband To Reach 50% Of U.S. Homes
By 2010, some predict that as many as 65% of homes will have broadband access, about 34 million homes will have ADSL lines and another 40 million will access broadband from cable systems.
According to a report from In-Stat, about 9 million U.S. homes currently have at least one VoIP (Voiceover Internet Protocol) user. About 49% of those users said, they stopped using traditional phones when they switched to VoIP. By far, Vonage and Time Warner Cable are the most popular VoIP services, however free serves from Skype, MSN and Yahoo are gaining ground.
Business IP use will see the fastest growth at about 27% yearly through 2010. Research indicates the industry will see about $6 billion in revenue by then. Consumer IP phone use will grow at a slower rate to about $13 billion by 2010.
Both eMarketer and In-Stat predict that VoIP services will continue to gain in popularity over the next five years. eMarketer suggests that 40% of broadband households will be VoIP households by 2010.
ABOUT THE AUTHOR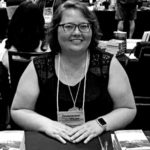 Kristina Knight is a freelance writer based in Ohio, United States. She began her career in radio and television broadcasting, focusing her energies on health and business reporting. After six years in the industry, Kristina branched out on her own. Since 2001, her articles have appeared in Family Delegate, Credit Union Business, FaithandValues.com and with Threshold Media.