Get our RSS feed
Marketing
Beyond Marketing
BizReport : White Papers : Information Technology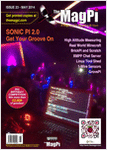 The MagPi has an exclusive of Samuel Aaron's brand new release of Sonic Pi v2.0 and how it is aiding build the underground music movement of Live Coding. Samuel describes what is new to v2.0 along with some basics to get you up and mixing in no time.
Jacob Marsh from ModMyPi is back with another great tutorial on physical computing, this month describing how to use 1-Wire temperature sensors. Take a look at how to build your own XMPP chat server in Gianluca's Chat Room article, then Bernhard Suter provides the next article in our Linux tool shed series where he describes the bash shell.
This issue also includes:
Studying Atmospheric Pollution With A Multi-Sensor Array
Part 1: Introduction to the main subsystems
GrovePi: Adding Grove Sensor Modules
Stackable hardware extension board
Brick Pi
Part 3: Scratch interface with RpiScratchIO
Minecraft Pi Edition
Part 2: Interfacing Minecraft with PiFace Digital
Physical Computing
Part 2: Using 1-Wire temperature sensors
C++ Cache
Part 5: Classes
Chat Room
Turn your Raspberry Pi into an XMPP chat server
Linus Commands
Part 2: Tales from the Linux tool shed – don't bash the shell
Sonic Pi: Get Your Groove On!
Part 2: Discover new samples, synths, studio effects and Live Coding
Click here to request your free White Paper!
Publisher: