Get our RSS feed
Marketing
Beyond Marketing
BizReport : White Papers : Executive & Management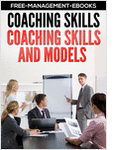 You will learn how to:
Use active listening techniques to demonstrate genuine interest in the coachee
Ask different types of question to focus attention, elicit new ideas, encourage exploration and foster commitment
Develop rapport and give feedback in a way that is positive and non-judgmental
Use the GROW, TGROW and OSKAR models in a practical coaching session with a team member
Recognize and overcome organizational barriers to coaching
Chapter 1 - Management Coaching Skills and Models
The essential competencies and skills required by a successful coach are: active listening, asking questions, goal setting, giving feedback, building rapport, demonstrating empathy, and using intuition.
Chapter 2 - Coaching and Active Listening
Active listening requires you to put your own concerns, attitudes, and ideas to one side while you listen to your coachee. This demonstrates to that individual that you are giving them your undivided attention.
Chapter 3 - Asking Questions in a Coaching Session
Using questions to focus the thoughts and attention of the coachee on a particular issue that they may take for granted and therefore gloss over is important in attaining the coaching objective. As coach you will use questions to 'zero' in on particular aspects of a problem or issue that you want to encourage the coachee to think about in detail.
Chapter 4 - Coaching and Goal-setting
Goals operate as a self-regulatory instrument that guides the planning and focuses the coachee's energies and thinking on a clear objective. Whilst the individual being coached is responsible for setting the agenda (goal), as coach it is your responsibility to be familiar with how to set motivating and attainable goals.
Chapter 5 - Giving Feedback to the Coachee
The key to delivering effective coaching feedback is that it is observational and non-judgmental. You must provide clear, specific feedback about the coachee's actions and their consequences, so that the coachee can evaluate their own performance.
Chapter 6 - Building Rapport with the Coachee
In the coaching relationship, the focus should be on the coachee's professional goals and how they can be achieved. Coaching is not counseling so it does not require the coach to know too much about the coachee's private life or to become their 'best friend.' Your aim as coach is to create a level of rapport that means the coachee is happy to talk honestly about their work performance.
Chapter 7 - Demonstrating Empathy and Using Intuition in Coaching
Empathy helps you to 'tune in' to the things that are important to the coachee. It is as important as the more tangible coaching skills, like questioning and active listening. Intuition has a key role to play in establishing rapport. Accessing and articulating your intuitive sense about something that concerns the coachee adds another dimension to your usual logical and rational perspectives.
Chapter 8 - Coaching Models and 'The Inner Game'
This is an approach to coaching developed by Tim Gallwey, a professional sports coach. Coaches using the Inner Game soon realized they could apply these principles in other learning situations. This led to the development of 'GROW' a structured framework using the Inner Game principles to achieve goals.
Chapter 9 - The GROW Coaching Model
The GROW model is easily understood and straightforward to apply to management coaching. GROW is an acronym of Goal, Reality, Obstacles and Way forward.
Chapter 10 - The TGROW Coaching Model
The TGROW model covers the wider environment that impacts on the specific issue to be addressed through coaching.
Chapter 11 - The OSKAR Coaching Model
The OSKAR model requires you to ask questions in such a way as to move the coachee's attention away from problems in favor of solutions. OSKAR is an acronym for Outcome, Scaling, Know-how & Resources, Affirm & Action, and Review.
Chapter 12 - Organizational Barriers to Coaching
The Chartered Institute of Personnel and Development (CIPD), Europe's largest HR development professional body, has conducted research into the organizational barriers to effective coaching. It provides you with insight into why some organizations are reluctant or unable to implement effective internal coaching.
Click here to request your free White Paper!
Publisher: