Get our RSS feed
Marketing
Beyond Marketing
BizReport : Magazines : Biotechnology & Pharmaceuticals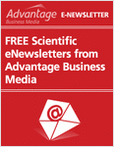 ABM offers cutting edge and free eNewsletters in the Scientific fields, designed to deliver the latest and most complete content available. Choose from any of these topics:
ALN Weekly
ALN World Bi-weekly
Bioscience Technology Life Science Pulse
DFI News Weekly
Drug Discovery & Development's Early Edition
Drug Discovery & Development Update
Forensic Magazine Weekly
Lab News Daily
Laboratory Equipment Product Showcase
R&D Product Showcase
Scientific Computing NewsWire
The R&D Daily A.M. Edition
The R&D Daily P.M. Edition
Click here to request your free Magazine!
Publisher: