Get our RSS feed
Marketing
Beyond Marketing
BizReport : Magazines : Computers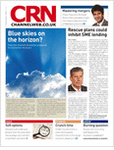 News, analysis, channel research, technology information, in-depth features and dedicated How to Sell and Focus supplements make CRN the most respected, highest-quality editorial newspaper. Start-ups, collapses, events, world news, and exclusive stories that tell you how well, or how badly, your competitors are doing; it is all here.
CRN is first with the most relevant, most accurate and hardest hitting news in the channel
CRN is a business tool that enhances the prospects of the channel professional
CRN is the only channel title to have an up-to-the-minute news website
CRN is the title for channel decision makers
CRN contains essential news and information for VARs, integrators and converged resellers
Click here to request your free Magazine!
Publisher: